BMW Motorrad has partnered with German customizer Fred Kodlin to customize the R 18 B, and the one-off from this collaboration is called Heavy Duty. This motorcycle looks otherworldly, as if it was built for a trip to the galaxy. Custom built for Daytona Bike Week, this motorcycle is the culmination of months of work.
The biggest challenge was retooling the bike's frame, since the customization involved a lot of metalworking. The BMW R 18 Heavy Duty is essentially a father-son duo project, as Kodlin's son Len also contributed significantly throughout the customization process. "We completely re-manufactured the top tube to lower the flying wires, which lowers the R 18 B's seat height," says Cordlin.
Also read: BMW updates iDrive for all models before switching to Android platform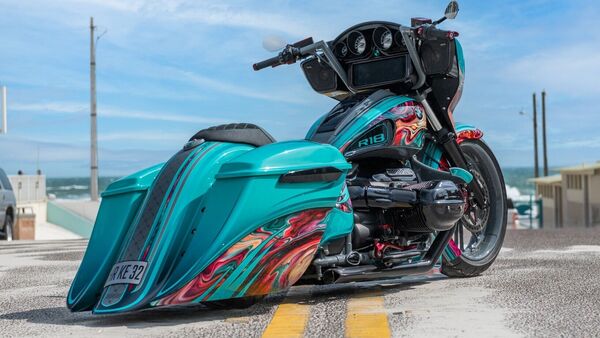 The windshield has been chopped; the steering head and triple clamps have been redone so that despite the change in steering angle, the casters still fit and the bike rides well. The Heavy Duty's flying wires descend to the rear from a chopped windshield from the original BMW Motorrad accessories collection. The top of the BMW R 18 B Heavy Duty has a solid waistline in the seating area and joins the sidepods.
The bodywork alone took about three months to create a brand new sheet metal tank – longer than the original, with a smooth shape and dented sides. To this end, the connection of the fuel tank and the rear frame was also modified. On the other hand, R 18 B continues to use the original mobile phone charging compartment.
The paint job on the bike was done by tattoo artist Marcel Sinnwell. The color gradient is painted entirely in translucent paint, while the R 18 B Heavy Duty's design touch is provided by hand-painted pinstripes and a painted pattern on the rear fender, combining Kodlin and "100 Years of BMW Motorrad"
First published date: Mar 15, 2023, 10:17 AM CST
https://auto.hindustantimes.com/auto/two-wheelers/bmw-r-18-b-heavy-duty-custom-bike-is-made-for-your-trip-to-galaxy-41678852787062.html