BMW is all set to unveil its much-awaited Vision Neue Klasse concept, which will give us a preview of the platform for future electric cars of the brand. The German luxury car brand is all set to unveil the Vision Neue Klasse concept on September 2. Right ahead of that, it has teased the light-up front grille of the concept EV.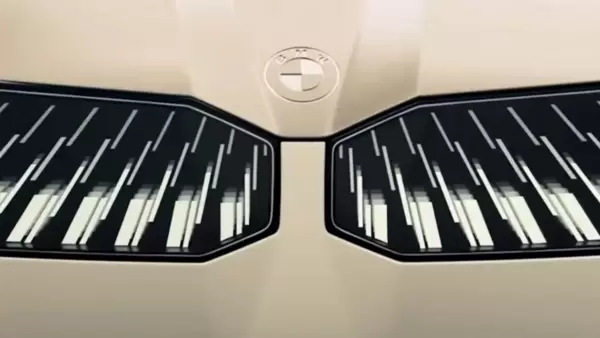 The BMW Vision Neue Klasse concept is an electric vehicle platform that will underpin the brand's upcoming product lineup. The new teaser comes in the form of a short video posted on social media highlighting a portion of the front fascia of the concept. It shows the BMW's signature kidney grille that extends out of the frame. There is a flat, embossed roundel sitting between deep styling lines that stretch from the hood and run through the grille before meeting the bumper. This design philosophy is quite similar to the Vision Dee concept that was showcased in January 2023.
Also Read : BMW to locally produce its electric vehicles in India soon
The front grille of the new Vision Neue Klasse concept features a black theme and comes with unique lighting technology that mimics breathing. The rows of lights, decrease in size the higher they are positioned in the grille. Also, they illuminate from the bottom on the inhale and extinguish from the top on exhale. The car brand has described the video as inhaling innovation and exhaling transformation in its social media posts.
BMW plans to launch six new electric cars that will be based on the Neue Klasse EV architecture. These six electric cars will be introduced to the BMW lineup within 24 months of each other. The first car to be underpinned by this platform will be a sedan followed by a compact SUV. These EVs claim to come packed with new technology and features as the automaker is aiming to heavily digitalize the driving experience of future BMW cars.
Speaking about the specifications of the BMW Neue Klasse EV platform, it will be capable of offering vehicles with power output ranging between 264 bhp and 1,296 bhp. The platform is capable of handling battery packs ranging in size between 75 kWh and 150 kWh. The architecture claims to come equipped with BMW's Gen 6 battery technology that promises to cut production costs by 50 per cent while improving range by up to 30 per cent.
First Published Date: 31 Aug 2023, 09:57 AM IST
https://auto.hindustantimes.com/auto/electric-vehicles/bmw-vision-neue-klasse-concepts-light-up-grille-teased-ahead-of-september-2-debut-41693454247994.html