Cadillac has unveiled the electric version of the Escalade in the global market. It is called Escalade IQ and is expected to go on sale in 2025. The Escalade IQ will deliver a full-size luxury SUV experience but with an electric powertrain. Cadillac has announced that the Escalade IQ will have a starting price of $130,000 including destination charges. It is expected that the Escalade IQ will not be making its way to the Indian market.
The manufacturer is using a 24-module battery that has a capacity of 200 kWh and it supports 800-volt DC fast charging. This means that 160 km of range can be added within just 10 minutes if the person finds the right charger. Escalade IQ will be equipped with Vehicle-to-Home (V2H) bidirectional charging technology. Cadillac is estimating a driving range of 724 km on a single charge.
The Escalade IQ is based on GM's Ultium platform which is a platform made for electric vehicles. It is essentially an electric skateboard platform where the wheels are placed on the corners and the floorboard forms the batteries. This helps in maximising the cabin space.
Escalade IQ features independent front and rear suspension with Magnetic Ride Control 4.0 and Adaptive Air Ride Suspension which can lowered by up to 50 mm and raised by 25 mm. The wheel size measures 24 inches while the tyres measure 35 inches. There are motors in the front as well as at the rear. So, it comes with an electric all-wheel drive system. Cadillac will offer four-wheel steering as standard. There will also be Arrival Mode and Low Ride Mode.
(Also read: Cadillac Celestiq concept previews brand's first electric flagship sedan)
Four-wheel steering reduces the turning circle while driving slowly and manoeuvring around a parking lot whereas at higher speeds it increases stability. The Arrival mode is basically the Crab Walk feature that we first saw on the Hummer EV. It helps the SUV drive diagonally. The Low Ride mode enables the Escalade IQ to be driven at low speeds with the suspension fully lowered.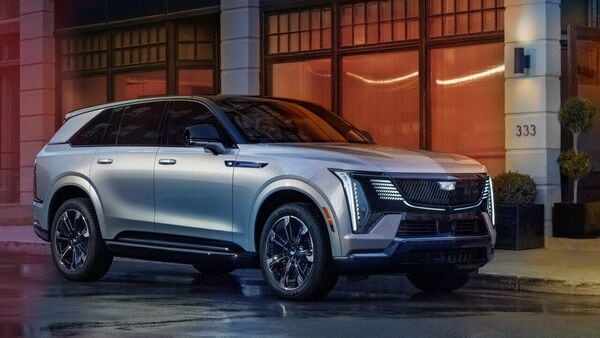 First Published Date: 12 Aug 2023, 11:03 AM IST
https://auto.hindustantimes.com/auto/electric-vehicles/cadilac-escalade-to-go-electric-in-2025-will-have-725-km-of-range-41691640402928.html