Emmanuel Macron tried to convince Elon Musk on Monday that France is a major center for foreign investment and electric vehicles, as the president tries to attract global businesses to his country. Macron said on Twitter that Macron and Musk, the head of electric car maker Tesla and the second richest man in the world, discussed the development prospects of electric vehicles and the energy field in the presidential palace.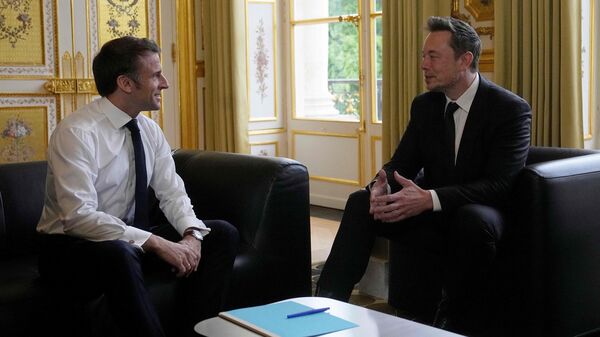 Musk said after meeting Finance Minister Bruno Le Maire that he "believes that Tesla will make significant investments in France in the future," according to AFP. "I am impressed by the welcome given to the industry by President Macron and the French government," he was quoted as saying by AFP.
Earlier, Le Maire told BFM TV that talks were underway with Musk about a possible investment in France, but gave no details.
Macron and Musk discussed European and French responses to U.S. President Joe Biden's green subsidy program, known as the inflation-reduction bill, according to a Macron aide who asked not to be named.
The law, which would provide some $369 billion in grants and tax credits for clean energy projects in North America over the next decade, has been a bone of contention in the United States and the European Union.
Brussels said some aspects of the bill would unfairly discriminate against European companies and was seeking exemptions for European companies. The EU is still trying to figure out the extent to which the legislation will affect the bloc's economy.
The meeting with Macron took place on the sidelines of a gathering of some 200 global business leaders, whom the president invited to Versailles to showcase his ability to attract foreign investment. Macron, still grappling with entrenched opposition to his pension reform, said his guests had pledged some 13 billion euros ($14.1 billion) in new investments.
The meeting with Musk, who arrived in a gray Tesla with wing doors, lasted about 45 minutes. Musk, seated to Macron's left, smiled awkwardly and waved to the camera, hands on his lap, as the meeting began.
Macron and Musk are scheduled to meet again with other business leaders on Monday, with the president calling them for a roundtable and dinner in Versailles, the aide said.
Macron has been struggling to restart his second term in office after a damaging fight over raising the retirement age dented his popularity. To this end, he announced measures to reverse the decline of French industry.
Macron said he would scrap state bonuses designed to encourage the purchase of carbon-heavy electric cars – possibly targeting vehicles made in China. On Tuesday, the government will introduce a legal proposal it describes as a way to make the industry greener, which will include details of bonuses that Macron said would benefit European producers.
Macron's enthusiasm for Musk surprised some in the French auto industry, which has struggled with Tesla since the Texas-based automaker cut prices on its Model 3 and Model Y vehicles. Pull out the competition. Shares in Renault SA and Peugeot maker Stellantis NV have been falling as investors worry about price cuts.
To boost France's profile among investors, Macron has put a particular focus on turning northern France into a production center for electric vehicle batteries and related materials. However, it seems highly unlikely that Tesla will build another site in Europe in the near future.
negotiations in progress
Tesla's Berlin plant is already scaling back its battery-making plans as the automaker's global production network has been expanding at breakneck speed. France competed with Germany to convince Musk to build the base in eastern France, where the nuclear reactor was previously located.
Macron met Musk last year during a visit to the United States in New Orleans. At the time, Macron said the two had "candid" discussions about content moderation on Twitter, and also discussed the manufacture of electric cars and batteries. The 45-year-old president has criticized Twitter's chief executive for relaxing its content-censorship policies, including disinformation about Covid-19.
The pair may also have discussed cooperation in the French territory of New Caledonia in the South Pacific, Tesla's pledge to buy nickel from a troubled factory backed by the French government, and SpaceX, the satellite operator that launched the Paris satellite. Eutelsat SA. Macron has also been trying to present Paris as a tech hub to woo companies like Twitter, which Musk acquired last year.
First published date: May 16, 2023 at 08:31 AM CST
https://auto.hindustantimes.com/auto/electric-vehicles/france-to-be-teslas-next-big-eu-destination-elon-musk-emmanuel-macron-meet-triggers-talks-41684205615624.html