Delhi has added 400 electric buses, manufactured by Tata Motors, today. At an event held in the national capital, these electric buses were flagged off by Arvind Kejriwal, Chief Minister of Delhi and VK Saxena, Lt Governor. With these 400 electric buses added to the Delhi Transport Corporation's (DTC) EV fleet, the total number of electric buses in the national capital has now gone up to 800. The state government aims to add more by the end of this year.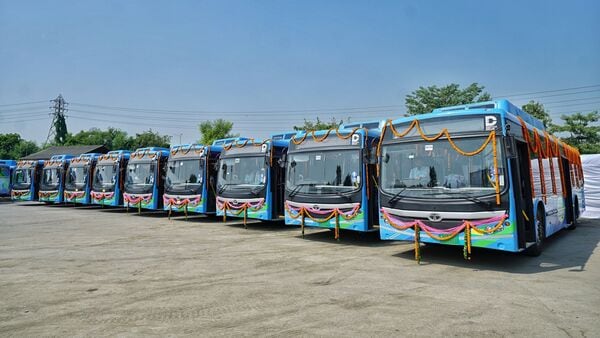 Delhi currently has the largest electric bus fleet among all the major cities in India. The state government has put emphasis on converting the city's public transport to cleaner fuel to reduce pollution.
The new electric buses to be introduced will come with features like GPS, CCTV cameras and panic buttons to ensure safety and security of commuters, especially women. These features will be connected to the centralised Command and Control Centre located at Kashmere Gate, for real-time response and monitoring. Kejriwal said, "These buses are part of the 921 buses under the subsidy scheme, for which a subsidy of ₹417 crore has been given by the Centre and the Delhi government will spend ₹3,674 crore."
The state government had earlier revealed plans to add as many as 8,000 electric buses to Delhi's public transport fleet by the end of 2025. Kejriwal took to social media on the occasion and said, "Our target is to introduce a total of 8,000 electric buses on the roads of Delhi by the end of 2025. At that time there will be more than 10,000 buses in Delhi, of which 80 per cent will be electric. Very soon Delhi will also be known all over the world for its excellent electric buses."
The state government also said that it plans to increase the number of electric buses in the city to 1,500 units by the end of this year. The government is also planning to increase the EV infrastructure for public transport by updating electricity grid, drawing high-tension power lines and setting up of sub-stations at each of the bus depots.
First Published Date: 05 Sep 2023, 14:42 PM IST
https://auto.hindustantimes.com/auto/electric-vehicles/delhi-adds-400-more-tata-electric-buses-to-its-fleet-takes-total-to-800-now-41693903663159.html