Elon Musk is currently in China, his first visit to China in three years. Tesla dominates the world's largest electric vehicle (EV) market, and while the purpose of the chief executive's trip was unclear, Musk has become the toast of netizens on Chinese social media sites.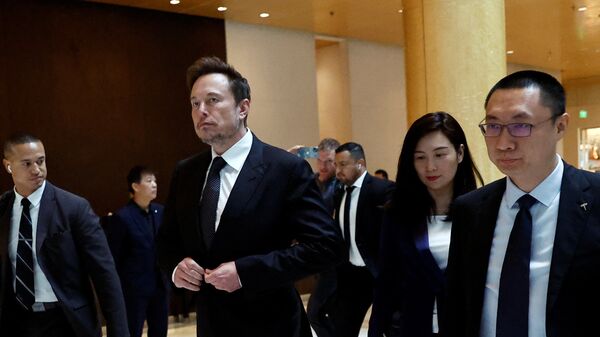 Musk has a huge following on social media channels around the world, most of which are banned in China. But China has its own social media platforms, and even on those platforms, Musk is a hugely popular figure. His continued stay in the country sparked further frenzy, with fans full of praise for him.
Musk landed in Beijing on Tuesday in a private jet and has since held numerous meetings with senior Chinese government officials. He also plans to visit Tesla's Shanghai factory, which opened in 2019 and is the company's first outside the United States. His every move is closely watched, especially by fans here. "Elon Musk is amazing, if only China could have someone like Elon Musk," one user posted on the Chinese social media platform. "He is a global icon," wrote another.
It is nothing new for top officials of US multinational corporations to visit China. But the buzz around Musk's latest visit was far more intense than when Apple CEO Tim Cook visited in March. Starbucks' Laxman Narasimhan and JP Morgan's Jamie Dimon are also expected to visit the country this week, but Musk's connection to the public at large may be unparalleled.
But Musk's cachet alone won't benefit Tesla in a competitive EV market like China's. The company produced more than 700,000 electric vehicles in Shanghai last year, but has also been facing increasing competition from local rivals. It also didn't help that ongoing U.S.-China tensions may have prompted Tesla officials to hold talks in India about a possible manufacturing plant.
Geopolitical tensions and market challenges aside, Musk himself is a superhero in many other parts of the world. Interestingly, though, Musk now also owns Twitter, a social media channel that is blocked in China.
(Input from Reuters)
First published date: May 31, 2023 at 14:11 PM CST
https://auto.hindustantimes.com/auto/electric-vehicles/if-only-china-had-someone-like-elon-musk-chinese-netizens-celebrate-tesla-ceo-41685521652498.html