Ticket registration is finally open for the first-ever MotoGP championship to be held in India. FairStreet Sports, the promoters of the Indian Grand Prix, has partnered with BookMyShow and will start selling tickets soon. The inaugural MotoGP Bharat GP will be held at the Buddha International Circuit (BIC) from September 22-24, 2023 and tickets can only be purchased online at the BookMyShow website or app.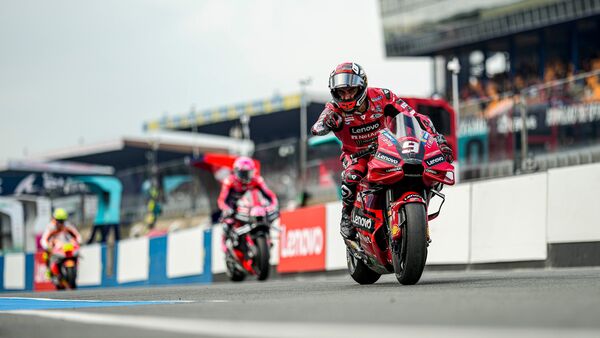 Ticket prices have yet to be announced, but reports suggest they will range from as low as ¥800, up to ¥150000. However, the price of Bharat GP will vary depending on factors such as seating, accessibility, etc. The Bharat GP is the first major global motorsport event to be held in India since Formula 1 came to India in 2011.To give you an idea, F1 Indian Grand Prix tickets are as low as ¥1,500.
Also read: 2023 MotoGP race to be held in India; to be called 'Bharat Grand Prix'
Commenting on the opening of ticket registrations, FairStreet Sports Chief Operating Officer Pushkar Nath Srivastava said: "We are delighted to announce our exclusive partnership with BookMyShow as the official ticketing partner of this long-awaited MotoGP event in India. This partnership brings together Together, we will provide fans with an unforgettable MotoGP journey , ensuring lasting memories and unparalleled excitement."
Anil Makhija, Chief Operating Officer, Live Entertainment, BookMyShow, said of the association: "We are delighted to enter into a strategic partnership with MotoGP Bharat and begin our journey together as the official and exclusive ticketing partner of the debut Indian Superbike We are delighted to be able to effectively leverage our technical know-how to deliver an impeccable and seamless experience to our broad, loyal and digitally savvy consumer base for avid cycling enthusiasts throughout their MotoGP Bharat journey Delivering an impeccable and seamless experience, and ticketing is the first step in this critical journey for motorsport fans across the country."
Expressing its support for the event, FMSCI President Akbar Ebrahim said: "FMSCI congratulates Fairstreet Sports, Dorna (promoter and rights holder of the FIM MotoGP) and FIM (world governing body for 2W motorsport) Agreement to host a round of the FIM MotoGP in India in September 2023. FMSCI also wishes Fairstreet Sports Pvt Ltd every success as event ticket registration opens and wishes them all the best."
Just a few days ago, MotoGP officials from Dorna completed a high-level survey at the BIC of various technical aspects, broadcast setup facilities and assessed various other essential requirements. The arrival of the top-flight championship in India is much-anticipated and sure to delight the fans.
First published date: June 2, 2023 at 17:00 pm CST

https://auto.hindustantimes.com/auto/two-wheelers/motogp-bharat-ticket-registrations-open-in-india-sales-to-begin-soon-41685704173781.html