Tata Motors has issued a clarification over a viral image on social media promoting the Tata Tiago EV while mocking the recently launched MG Comet EV. Tata Motors stressed that the images used in the post were not created or distributed by the company and clarified that it followed ethical business practices.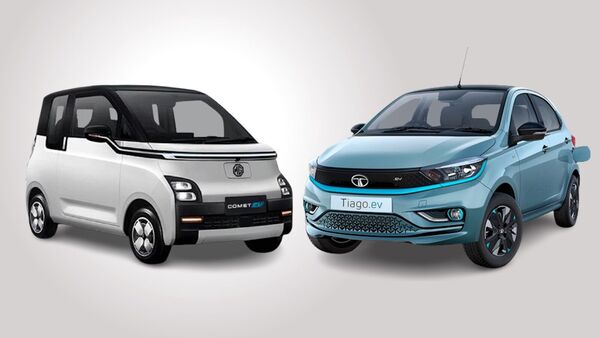 Launched earlier this week, the Comet EV is a two-door, four-seater model that is currently the most affordable EV in the country, a title that has so far belonged to the Tiago EV. Although only indirect competitors, the Comet EV and Tiago EV are expected to compete with each other because of their respective price points.
Comet EV is priced at ¥798k (ex-showroom and introductory) with starting price for Tiago EV ¥860,000 (ex-showroom). Shortly after the MG EV's launch, an image went viral on social media that made a veiled dig at the model and dubbed it a "CarToon". Tata Motors was quick to point out that it had nothing to do with the image. "We have noticed an image circulating on WhatsApp and several social media platforms showing our vehicle and another OEM's recent launch in an offensive manner. We have received several inquiries about it and would like to take this Chance categorically confirms that this image was not created or distributed by us," the company's statement read. "We also advise our channel partners not to be involved in any way. Tata Motors is bound by a strict code of conduct and follows ethical business practices."
Interestingly, a follow-up image has now started going viral on social media, suggesting that the MG Comet is considered the ideal choice. It is also safe to assume here that this is not from MG Motor India either.
Nonetheless, it is encouraging to see that the options in the mass-market EV segment continue to grow in India, with models like the Comet and Tiago EV, among other models, likely to attract more buyers.
First published date: April 28, 2023 at 13:15pm CST
https://auto.hindustantimes.com/auto/electric-vehicles/not-ours-tata-motors-clarifies-on-viral-photo-mocking-mg-comet-ev-41682665495571.html