Royal Enfield's maiden electric motorcycle is currently under development but it won't be until FY2026 that we get to see the upcoming offering. Siddhartha Lal, Managing Director – Royal Enfield confirmed the timeline in a recent interaction with the media during the Q1 FY2024 earnings call. The brand's maiden electric motorcycle is currently under development with a backend system already in place.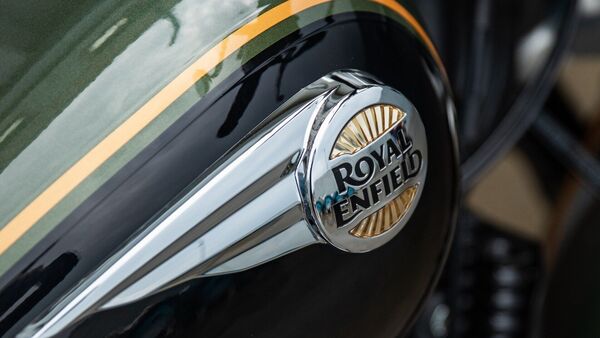 Royal Enfield endorsed the development of an electric motorcycle during the previous quarter's earnings call. The company has also partnered with Spanish electric motorcycle maker Stark Future to accelerate its EV plans and is currently in the phase of laying the groundwork for the upcoming all-electric offering.
Also Read : Royal Enfield in top gear to launch electric motorcycles: CEO
Speaking about the electric motorcycle launch timeline, Siddhartha Lal said, "We are around two years out before the product hits the market. We are working super hard on it. We are riding our prototypes. We still have time, we don't want to give half-baked stuff to the market at all. We will be totally disruptive. It's not about putting something in, taking some other competition head-on or improving on them. Nothing like that. It's a totally different paradigm we are working towards EV. That takes time to put together something really fantastic."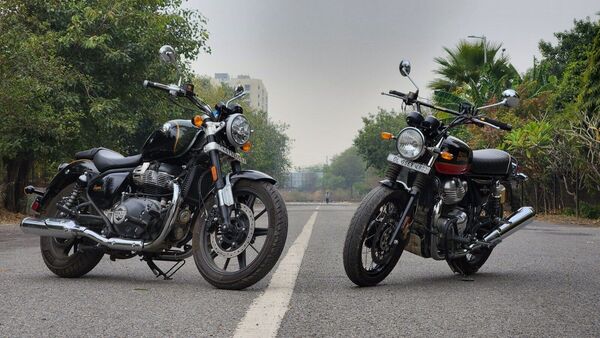 Royal Enfield has set up a new vertical internally for its new EV business. The company has hired a new team in place to execute the project, which will mark a new era for the company on a global scale. The motorcycle giant previously announced a capex of ₹1,000 crore for EV manufacturing and product development.
Elaborating more about upcoming electric motorcycle development, B Govindarajan, CEO – Royal Enfield said, Our focus as of now is building the capability which is what we need to have. We have almost about 100 people who are dedicated to the EV space. Our product strategy is a very elaborate process, it includes understanding the consumer, and what kind of motorcycle we have to make. We are in the phase of execution. We building the mules, we are testing the mules, and we are signing up with the supply partners. We are setting up some capacity inside for manufacturing but that's only for vehicles and some other aggregate that we have to make for EVs. The battery management system, motor controller unit system, all the partners, design; all those things are done. We are at full speed in terms of execution."
Royal Enfield has an installed capacity of about 1.5 lakh units for the upcoming electric motorcycle. It will be a modular plant allowing the brand to expand its manufacturing capacity in the future.
"We are in the phase of setting up the whole back-end system, which is ready for it. So the whole focus making a gorgeous-looking, very disruptive motorcycle which we have to come up with. That's what our focus is as of now. We are evaluating some of the aggregates for EVs with respect to make vs buying," Govindarajan explained further.
Watch: Royal Enfield Super Meteor 650: Road test review
Royal Enfield's arrival in the electric motorcycle space is expected to be a game changer, especially with the segment currently dominated by start-ups. Presently, players like Ultraviolette Automotive, Oben Electric, and Tork Motors are working on e-motorcycles. From these, only Ultraviolette is working in the premium end of the segment. We reckon this is the space RE would want to tap into, in keeping with the overall brand ethos.
Meanwhile, Royal Enfield is gearing up for new launches in this quarter of the year. The company has the next-generation Bullet 350 lined up for launch at the end of the month, while the long-awaited Himalayan 450 is also likely to arrive before the end of the year. Furthermore, the company has a host of 350, 450 and 650 cc motorcycles in the works that will arrive in the next two years.
With respect to financial results for Q1 FY2024, Eicher Motors, Royal Enfield's parent company, registered its highest-ever quarterly revenue, EBITDA and Profit After Tax (PAT). The company's total revenue from operations stood at ₹3,986 crore, up by 17.3 per cent as compared to ₹3,397 crore during the same quarter in FY2023.
Eicher's EBITDA stood at ₹1,021 crore, growing by 22.8 per cent over ₹831 crore during the Q1 last fiscal. Profit After Tax was recorded at ₹918 crore, up by 50.4 per cent as compared to ₹611 crore during the same period last year. This is also the fourth consecutive quarter of the highest-ever revenue from operations and PAT. Royal Enfield sold a total of 225,368 (consolidated) motorcycles between April and July this year, registering an increment of 21.1 per cent in overall volumes when compared to 186,032 units sold during the same period in FY2023.
First Published Date: 03 Aug 2023, 21:32 PM IST
https://auto.hindustantimes.com/auto/two-wheelers/royal-enfield-s-maiden-electric-motorcycle-still-two-years-away-siddhartha-lal-41691069743078.html