Food delivery platform Swiggy has partnered with EV service-provider Sun Mobility to power more than 15,000 electric bikes that are a part of its delivery fleet, over the period of next 12 months. Swiggy's last-mile delivery e-bike fleet will have access to the latter's state-of-the-art battery-swapping technology and its network of battery-swapping stations.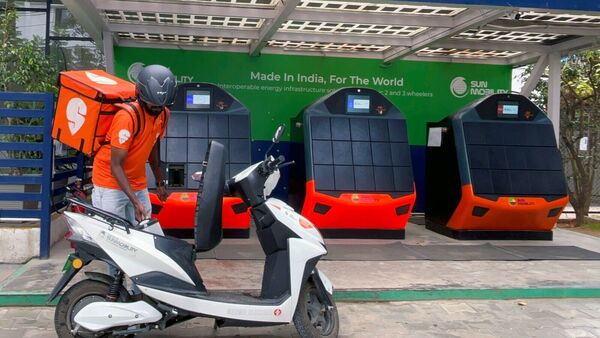 The move aligns with the company's commitment to cover eight lakh kilometers per day through electric vehicles by 2025. Swiggy's delivery fleet travels an average of 100 kilometers per day and access to Sun Mobility's battery swapping stations would be an easy transition to electric vehicles without a worry of range anxiety.
This transition will enable Swiggy's delivery partners to save up to 40% of the vehicle running cost, positively impacting their earnings. "As part of our early and long-term commitment to greener transportation, Swiggy is always looking for ways to increase the adoption of electric vehicles in our delivery fleet," said Mihir Shah, Head of Operations, Swiggy.
First Published Date: 06 Sep 2023, 14:54 PM IST
https://auto.hindustantimes.com/auto/electric-vehicles/swiggy-partners-sun-mobility-to-power-over-15-000-delivery-electric-bikes-41693986430585.html