Chinese tech giant Xiaomi will soon enter the electric vehicle market, with the company's all-electric offerings kept a secret until now. With about a year to go until its launch, images of Xiaomi's first electric car have leaked online, showing the front end and coupe styling of the four-door EV. The leaked image also confirms that the model name is MS11.
Xiaomi has been testing the MS11 EV for a while now, and the all-electric product is said to be in the final stages of testing. The Xiaomi MS11 will be a rival to the Tesla 3, and there are high hopes for the model that will go on sale in China first. Leaked images reveal a bug-inspired design that's largely reminiscent of the Model 3. The grille is completely absent at the front, with massive air intakes in the bumper and swept-back headlamps with integrated LED DRLs.
Also read: Xiaomi's $10 billion car project plans could hit regulatory hurdles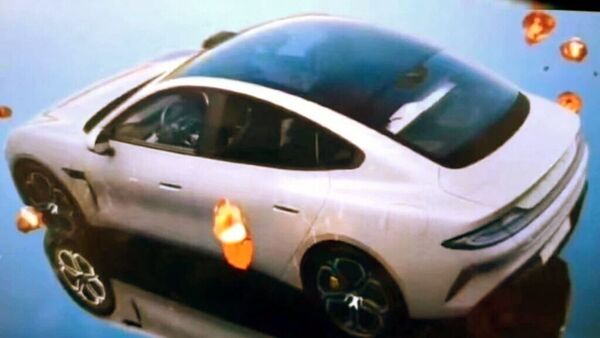 Some users also pointed out that the MS11 looks identical to the BYD Seal luxury electric sedan, another Chinese EV that will arrive in India later this year. The leaked images also reveal what appears to be a glass roof and coupe roofline on the sedan, while the rear features LED taillights joined by an LED strip running through the decklid. Other highlights include large alloy wheels, Wilwood brakes and LiDAR sensors that allow the vehicle to drive itself.
No word yet on powertrain and battery options, but Xiaomi is expected to launch the MS11 EV at different price points to ensure the model is more affordable than its more expensive rivals. While the car will enter international markets at a later stage, it remains to be seen whether India is on the tech giant's radar when it comes to its EV plans. Note that Xiaomi is still one of the largest tech companies in India with its smartphones, gadgets, home appliances, and more.
Xiaomi has announced plans to invest $10 billion in its auto business, and its car factory will open in Beijing with an annual capacity of 300,000 vehicles. The Xiaomi MS11 EV will go into production in 2024.
First published date: Feb 3, 2023 at 18:56 PM CST
https://auto.hindustantimes.com/auto/electric-vehicles/tech-giant-xiaomi-s-maiden-electric-car-leaked-online-to-rival-tesla-model-3-41675427867490.html