Tesla Cybertruck is one of the most awaited electric vehicles in the world. The electric pickup truck has been creating numerous headlines and over the last few months several times, prototypes of the EV have been spotted testing. Now, the EV appears to be ready for customer deliveries. Drone footage of the Gigafactory Texas captured by a Twitter user revealed a covered Tesla Cybertruck parked in the parking lot, which may be ready for customer delivery.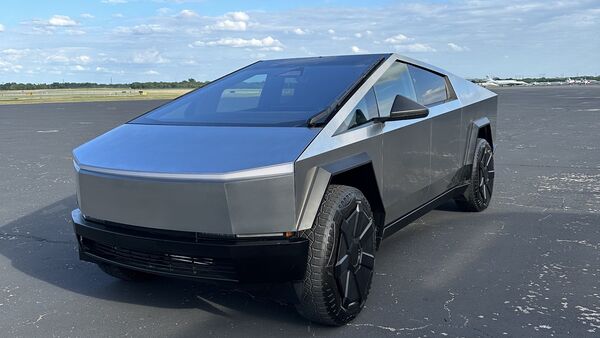 While a parked Tesla Cybertruck under a wrap doesn't sound like a big deal, it may not be the case, as Tesla is inching closer to customer deliveries and so far, the Cybertrucks were spotted without any cover. This may sound optimistic for the customers who have booked the Cybertruck and waiting for the EV eagerly.
Also Read : Tesla EV bashes through a wall and plunges into a swimming pool
The electric pickup truck has received more than 1.9 million reservations. It was first unveiled in 2019 and since then the production has been delayed multiple times. However, the consecutive delays from the auto manufacturer have not dented the interest of the consumers for this EV.
Teslarati has reported that the Cybertruck's pre-production units have not been caught on the outbound lot of the Gigafactory recently, which may be a sign that the automaker has started production of the final model and it is ready to be delivered to the customers. This comes in line with Tesla CEO Elon Musk's comment made in April 2023, when he said that the brand would hold a Cybertruck handover event towards the end of the third quarter of this year. Last month, Tesla tweeted a picture of the first Cybertruck release candidate rolling off the production line for certification and validation purposes. Tesla plans to produce the Cybertruck in a low volume in 2023 and increase the numbers in 2024.
First Published Date: 09 Aug 2023, 10:20 AM IST
https://auto.hindustantimes.com/auto/electric-vehicles/tesla-cybertruck-customer-deliveries-seem-imminent-hints-social-media-post-41691554436156.html