As Tesla is examining the possibility of setting up a manufacturing plant in India and setting up business here, the electric car manufacturer has been asked by the Indian government to emulate tech giant Apple in finding local firms to partner with any Chinese suppliers involved, reports Reuters. This move comes at a time when the US auto major has been in discussion with the Indian government and authorities for weeks about setting up a local production plant which would potentially roll out the much-awaited ₹20 lakh car.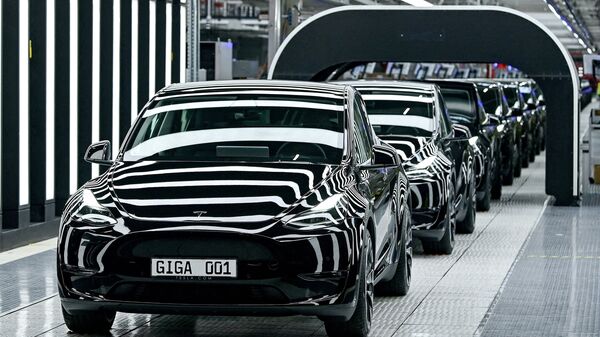 The report claims that in meetings with government officials in New Delhi, Tesla executives informed the Indian government that it would like to have some of its vendors from China set up a base locally to boost its supply chain. In response, government officials told Tesla that granting approvals for wholly-owned Chinese companies in India could be difficult due to intense scrutiny of Chinese firms since a 2020 border clash between the two countries, the report further stated. It also reveals that the Indian officials suggested a workaround in which Tesla would emulate the approach of Apple. The US tech giant in recent months has obtained approvals to bring Chinese suppliers to India after they found local joint-venture partners.
Also Read : Tesla executives discuss India entry plans with country's invest promotion agency. Know more
Tesla and its CEO Elon Musk have expressed interest in setting up a local production facility in India. Also, the company is expected to produce its cheapest ever car in India, which would be sold in the country and exported to other overseas markets as well. However, along with other complications, a major concern for Tesla is bringing in Chinese suppliers to India, especially in light of the strained India-China geopolitical relations.
The report claims that Tesla CEO Elon Musk seeking to expand beyond the automaker's biggest foreign base of China where regulatory approvals for expansion are slow to come. India came as a string contender among the options for that, as the country has expressed its interest in hosting the new Tesla plant in Asia. However, the Chinese suppliers' issue is going to be a critical one if Tesla has to establish a plant in India and keep costs in check to produce a cheaper EV.
When it comes to electric vehicles, India doesn't have local suppliers for major EV components such as battery cells. Even India's largest electric car manufacturer Tata Motors has been importing its EV battery cells from China. Tesla has been reportedly seeking a separate ecosystem for its Chinese vendor base. but it can only avail those approvals on a case-to-case basis if there is an Indian joint venture partner.
First Published Date: 02 Aug 2023, 09:30 AM IST
https://auto.hindustantimes.com/auto/electric-vehicles/tesla-has-to-copy-apple-to-set-up-business-in-india-heres-what-it-means-41690946966261.html