Tesla Inc missed its first-quarter profit forecast after a series of price cuts aimed at boosting demand squeezed profit margins. Revenue rose 24% to $23.33 billion in the quarter, almost matching Bloomberg's estimate of $23.35 billion. Profit excluding certain items fell to 85 cents a share, slightly below the 86-cent average estimate compiled by Bloomberg, while free cash flow fell to a two-year low of $441 million. Analysts had expected free cash flow of $3.24 billion for the quarter.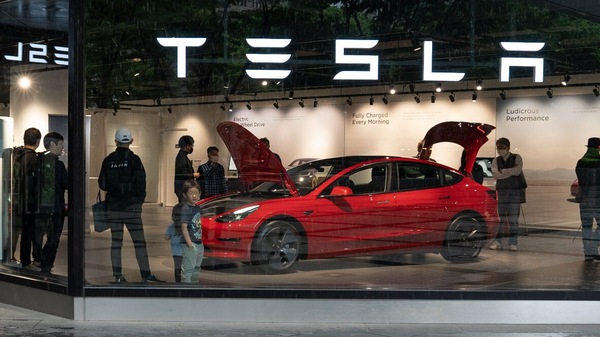 The Austin, Texas-based electric carmaker has been slashing prices to protect its leading market position. Tesla said its operating margin for the three-month period was 11.4%, down from 16% in the previous quarter and 19.2% a year ago. Unusually, it did not break out auto margins, which analysts have been watching closely.
Investors showed some nervousness about this aggressive pricing strategy. The company's shares fell nearly 5% in late New York trading after the results were announced, before easing back slightly. The stock was up 47% year-to-date as of Wednesday's close.
"Tesla is going through a tough time," said Gene Munster, managing partner at Deepwater Asset Management. "They're coming together, but investors want to see some of these trends start to improve."
Profit advantage
Tesla's profitability sets it apart from other EV companies. The automaker played down concerns about its recent price cuts, saying its profit margins were falling "at a manageable pace." Higher vehicle deliveries and raw material costs were a factor in lower profits, the company said.
"Our operating margin remains the best in the industry," Chief Executive Elon Musk said on a conference call with analysts. (read the full report here)
Tesla also benefited from tax credits included in the Biden administration's inflation reduction bill. The company reported $521 million in regulatory credits in the first quarter.
Musk has repeatedly said he doesn't mind sacrificing profits to boost demand, arguing that the high cost of Tesla vehicles deters potential customers. The base price of the Model 3 fell below $40,000 for the first time in years, about $7,000 lower than it was at the start of the year.
The chief executive is counting on the fact that Tesla can mass-produce electric vehicles to cement its existing lead over rivals that are rolling out nifty new battery-powered vehicles. Tesla is working with older models, having last launched a new passenger car, the Model Y, in 2019.
Production of Tesla's long-awaited Cybertruck electric pickup is expected to begin later this year at its Texas factory, with a "delivery event" expected in the third quarter. The company is also making progress on its next-generation vehicle platform, said a letter to shareholders. These future product models will be revealed "at a later date," the company's head of design Franz von Holzhausen said at an event last month.
The electric carmaker said production this year would match its previous multi-year average annual growth rate of 50%, and said it was on track to deliver about 1.8 million vehicles this year. It produced 440,808 vehicles and delivered 422,875 vehicles in the quarter, resulting in an excess inventory of about 18,000 vehicles. Orders now exceed production, Musk said on the call.
Tesla's solar deployments fell sharply in the first quarter, deploying just 67 megawatts, largely due to "variable weather" and other factors. It installed at least 94 megawatts in each of the previous three quarters.
First published date: April 20, 2023 at 09:11 AM CST
https://auto.hindustantimes.com/auto/electric-vehicles/tesla-profit-drops-as-ev-maker-sticks-to-more-price-cuts-41681961831330.html