We've come a long way in motorcycle gear safety since helmets were first made. Manufacturers of motorcycle gear have managed to offer some serious protection, including airbags in the kit, to keep riders safe. To make your commute even safer, popular French safety gear manufacturer Helite has released a backpack with built-in airbags for motorcyclists. Built on a foundation of wearable safety, the new backpack is practical enough for everyday use too.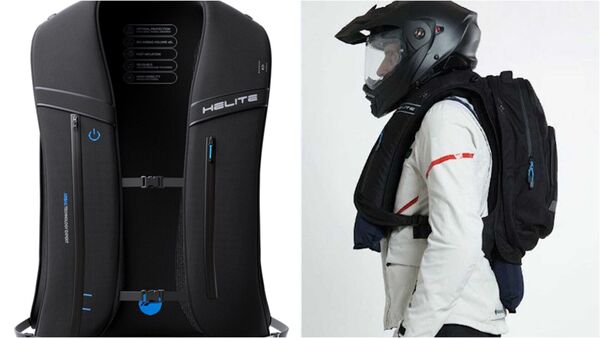 The Helite H-Moov Backpack goes a step further than back protectors in backpack design. The company's latest innovation involves the use of a CE-approved airbag vest with a removable compartment at the rear. There are two versions of the airbag system to choose from. The manual version includes a traditional tether system that attaches to your bike, which snaps if a crash triggers the airbag system to inflate immediately. Meanwhile, wireless airbag systems use sensors such as accelerometers, gyroscopes, and GPS to detect collisions and inflate the airbags immediately. In both versions, the airbags deploy within seconds and inflate before impact.
ALSO READ: This sneaker brand is now making shoes from recycled airbags
That said, the manual version will require you to disengage the tether after each ride to avoid accidentally triggering the airbag when disembarking from the motorcycle. H-Moov backpack airbags are reusable after inflation, allowing riders to replace the airbags themselves. Helite says the backpack airbags are designed to provide maximum protection for the back, sacrum, abdomen, chest and cervical spine.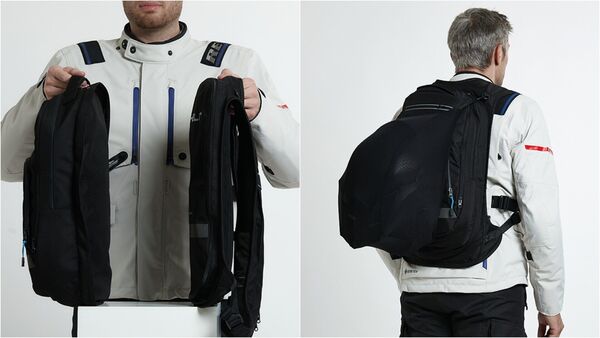 In addition to the airbag system, the H-Moov backpack also has quite a practical space. This bag offers approximately 18 liters of storage space for your laptop, knick-knacks and more. There's also a removable net for storing the helmet when you're not riding. The pack also features a Grade 1 Sas-Tec back protector for added protection to the rider, while adjustable shoulder straps and two chest straps ensure a snug fit.
The Helite H-Moov isn't cheap, with the manual version of the backpack airbag retailing for €689 (approximately ¥60,000), while the wireless version costs 849 Euros (approx. ¥74,000). While backpacks may not be available to everyone, this innovation certainly feels like a step forward in taking motorcycle safety beyond racing suits and even more expensive riding gear. Hopefully, more innovation and adoption will help make safety technology accessible to riders around the world.
First published date: Feb 25, 2023 at 12:13pm CST
https://auto.hindustantimes.com/auto/two-wheelers/this-backpack-comes-with-an-in-built-airbag-to-keep-two-wheeler-riders-safe-41677304359015.html