Bengaluru-based electric motorcycle start-up Ultraviolette Automotive has added a new feather to its hat with regard to the new F77. The Ultraviolette F77 has entered its name in the India Book of Records and Asia Book of Records for the maximum distance covered by an electric motorcycle. The company achieved this impressive feat by covering a journey of 6,727 km in just 22 days.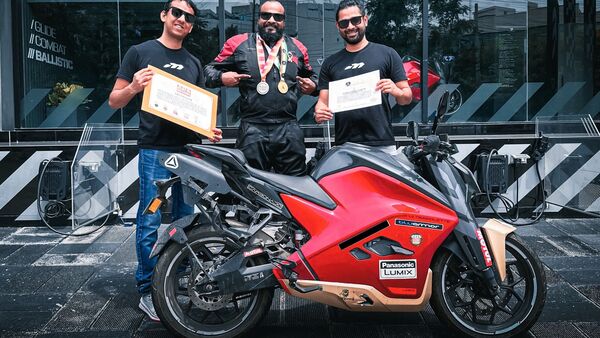 The ride was completed by Baala Manikandan, an early customer of the Ultraviolette F77 from Chennai. Baala started his ride on May 21, 2023, from Chennai, and traversed through the varied terrains across the country navigating through challenging roads, adverse weather conditions as well as temperatures ranging from over 45 degrees to -15 degrees Celsius. Through his 22-day ride, Baala passed through 14 states and was carrying an additional payload of 55 kg, before culminating his ride in Bengaluru, Karnataka, on June 12.
Also Read : Ultraviolette launches F77 Space edition, gets aerospace-grade materials
Baala used the mid-level Combat mode for most of the ride, offering a balance between performance and battery efficiency. Ultraviolette claims that the F77 helped Baala save about 270 litres of petrol, as against what a comparable ICE motorcycle would've consumed on a similar journey. That's said to be a cost saving of over ₹27,000, and 645 kg of CO2 emissions.
Also Watch: Ultraviolette F77 electric motorcycle | Review
The Ultraviolette F77 is the most expensive electric motorcycle in the country and the made-in-India model is priced from ₹3.8 lakh to ₹4.55 lakh (ex-showroom, India). The bike gets a 10.5 kWh battery pack, the biggest on any Indian electric two-wheeler so far, promising a range of 307 km (IDC) on a single charge. The performance electric motorcycle can sprint from 0-60 kmph in 2.9 seconds and has a top speed of 152 kmph.
First Published Date: 06 Sep 2023, 15:15 PM IST
https://auto.hindustantimes.com/auto/electric-vehicles/ultraviolette-f77-sets-new-record-for-maximum-distance-covered-by-an-e-motorcycle-details-41693992913411.html