Volkswagen said on Monday that it is in advanced talks with India's Mahindra & Mahindra on the use of key electric components of the German carmaker's open platform for electric vehicles, called MEB. Mahindra will use this platform to build its upcoming electric cars. In August last year, Mahindra had signed a deal with the German auto giant to get equipment of the upcoming five electric vehicles with MEB components. These components are meant for Mahindra's newly-developed electric car platform INGLO.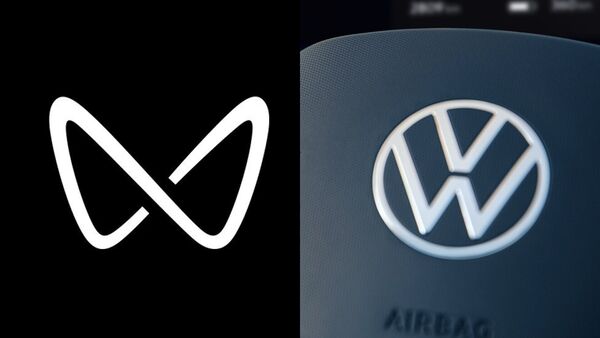 According to the German auto giant, Mahindra wants to use MEB components like e-drive and unit cells for its upcoming electric vehicles. The MEB platform, which is an open vehicle platform for EVs, will also be used by carmakers like Skoda to underpin its electric cars.
Volkswagen Group issued a statement saying the it is in advanced talks with Mahindra on this topic. Volkswagen said that low battery cost is essential to democratise electric vehicle business. Mahindra recently showcased the Thar. e Concept electric vehicle which is based on the INGLO-P1 EV architecture. The INGLO platform will power all five electric SUVs showcased by Mahindra on August 15, 2022. The platform offers batteries ranging between 60 kWh and 80 kWh capacity and fast-charging of up to 80 per cent in less than 30 minutes.
Watch: Mahindra Thar.e Concept electric SUV highlights
Mahindra Thar.e electric SUV concept's battery and electric powertrain details are yet to be disclosed. Expect it to carry a 60 kWh battery pack, which would channel power to dual motors fitted to each axle powering all four wheels. It is expected to come featuring a 4X4 drivetrain.
According to reports, Volkswagen and Skoda are planning to launch affordable electric vehicles using the MEB platform. The carmaker duo is reportedly working on a model, underpinned by the MEB21G platform. It could be priced as low as ₹20 lakh when launched. Currently, none of the European carmakers offer any electric cars in India.
First Published Date: 04 Sep 2023, 15:35 PM IST
https://auto.hindustantimes.com/auto/electric-vehicles/volkswagen-in-advanced-talks-with-mahindra-to-share-meb-platform-and-components-for-budget-ev-41693816778344.html