Tesla's electric vehicle charging technology is fast becoming the standard in North America, furthering the automaker's plans to expand access to its once-exclusive chargers. Tesla's charging technology has been building momentum for weeks. Volvo Cars joined General Motors, Ford and Rivian on Tuesday in accepting Tesla's charging design, sidestepping previous efforts by the Biden administration to make the Combined Charging System (CCS) the dominant charging standard in the United States.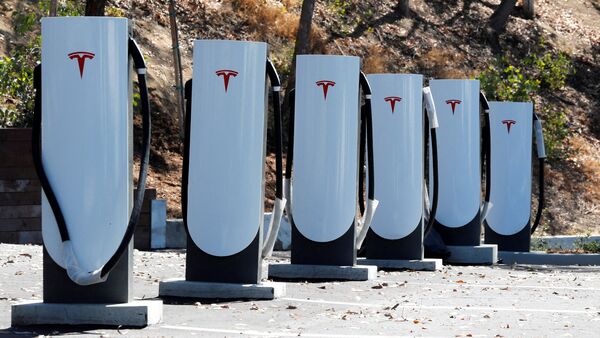 SAE International aims to develop an industry-standard configuration for Tesla's charging connector in six months or less, an official of the standards group said on Tuesday.
He added that the association is in conversations with Tesla, Ford, General Motors and other automakers, as well as the federal government, about NACS standardization.
"I think there is a real sense of urgency and consensus of purpose between industry and government," Frank Menchaca, president of sustainable transportation solutions at SAE International, told Reuters.
"The important thing to understand about this process is that it is no longer controlled by one company. In fact, all companies have come together to write a standard on how to develop this plugin."
Tesla refers to its technology as the "North American Charging Standard (NACS)," but it has not yet been approved as a standard by SAE International.
Shares of Tesla rose 3% to $248.33 Tuesday afternoon.
By 2030, the U.S. is on track to install a network of 1.2 million public EV chargers, including 1 million for Level 2 charging, according to a study by the National Renewable Energy Laboratory (NREL), a federally funded research center. device. The study did not provide details on NACS and other types of connectors.
The forecast exceeds the Biden administration's goal of deploying 500,000 public chargers by 2030.
Building a public charging network will require cumulative public and private capital investments of $33 billion to $55 billion, according to NREL research.
White House national climate adviser Ali Zaidi told Reuters on Tuesday that the Biden administration's approach to CCS and NACS connectors is promoting "more interoperability and ultimately easier-to-use across the country." charger".
Electric vehicle charging stations that use Tesla's standard plugs are eligible for billions of dollars in federal subsidies as long as they include the U.S. charging standard to connect to CCS, the White House said.
Texas and Washington state said they would authorize NACS and CCS as part of the federal program. Whether the federal government will follow suit remains to be seen.
First published date: Jun 28, 2023 at 08:40 AM EST
https://auto.hindustantimes.com/auto/electric-vehicles/volvo-to-use-tesla-ev-chargers-in-us-as-the-fourth-carmaker-and-the-first-european-to-do-so-41687921436388.html