One of the most exciting concepts showcased at the 2023 IAA Mobility in Munich was the BMW Vision Neue Klasse which previewed an all-electric successor of the 3 Series sedan. The German luxury car brand also stated that the Vision Neue Klasse comes as a preview of the future BMW electric cars. Slated to enter production in 2025, the concept grabbed the attention of the world automobile community with its fresh design, which is sharply sleek and simple at the same time.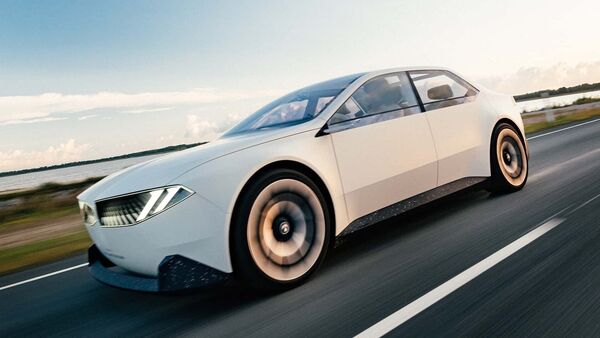 BMW has now released a video on its social platform showing the Vision Neue Klasse driving on the road. BMW claimed that the Vision Neue Klasse marks a new beginning for the brand and a fresh way of thinking. The concept represents a departure from the design language used in the current crop of BMW models. It carries simpler lines and high-tech features such as a 3D-effect LED illuminated grille. The user interface inside the cabin too is dramatically different than the current range of BMW cars. It gets an all-new generation of the BMW Drive system that includes an ultra-wide head-up display, which covers almost the entire width of the windshield.
While the concept shows some radical features, expect those to be toned down significantly in the production model when it goes to the factory floor in 2025. However, many design elements of the car would be incorporated into the production model, as BMW has hinted during the unveiling of this concept. The automaker has said that his is not just a static preview model, but a fully functional prototype.
The car brand claimed that the BMW Vision Neue Klasse tells a story of the transformation with references to the ideal of a circular economy, digitalization, and a commitment to electrification without losing the brand's original focus on driving pleasure. BMW has not revealed the specification details of the concept but hinted that it could come promising up to 1,000 km range thanks to bigger and more efficient batteries with higher energy density.
First Published Date: 10 Sep 2023, 10:42 AM IST
https://auto.hindustantimes.com/auto/electric-vehicles/watch-bmw-vision-neue-klasse-electric-sedan-driving-on-road-looks-sleek-yet-simple-41694321404644.html