The all-electric Audi e-tron S Sportback may be a sleek coupe-SUV for urban environments, but it manages to be part of another impressive mission in New Zealand well outside its comfort zone. New Zealand's first solar-powered electric stratospheric plane was recently launched into space, and helping the plane aloft is an Audi e-tron S Sportback.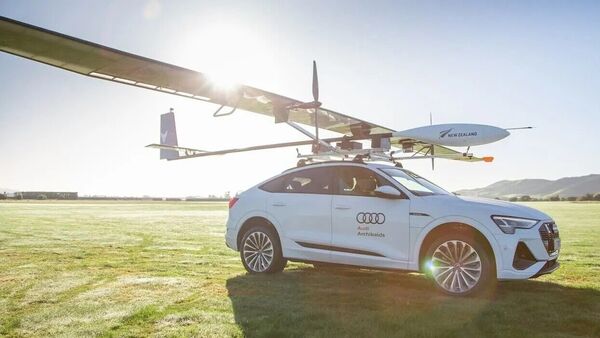 Kea Aerospace also shared a video of an Atmos Mk1 mounted on the roof of an Audi e-tron S Sportback taking off and landing. The electric coupe-SUV has been modified with roof brackets to mount the plane. The SUV then accelerated across the open field, allowing the Atmos Mk1 to take off while it was remotely controlled by crews on the ground. Other than the roof brackets, Audi doesn't appear to have changed anything else. With 496 horsepower and 973 Nm of peak torque, the e-tron S Sportback can accelerate from 0-100 km/h in 4.5 seconds.
Also read: Audi Q8 e-tron hits production line, will sit atop electric SUV pyramid
The Kea Atmos Mk1 aircraft, developed by Kea Aerospace in New Zealand, will be used to collect high-resolution aerial data to monitor weather, tree health and pollution. These will be mainly used for agricultural purposes. Insights derived from the data collected will help improve life on Earth, Kea said. Because the Atmos Mk1 is powered by solar energy, the aircraft is emission-free. With a wingspan of 12.5 meters, it can fly higher than most commercial airliners, reaching up to 50,000 feet and flying for up to 16 hours. It weighs only 40 kg.
Kea Aerospace says the Atmos Mk1 can take better pictures than satellites equipped with similar cameras. The first prototype of the electric plane will be unveiled in December 2021, called the X1, with a flight time of 14 hours. A second prototype, called the X10, achieved 36 hours of flight time. The company aims to reach even greater heights with future releases.
Kea is already working on the Atmos Mk2, which has a wingspan of about 30 meters and can operate at altitudes of 65,000 feet. The aircraft will help collect data related to detecting land and water pollution, monitoring forested areas, enabling rapid response and preparation for extreme weather events, developing smart cities and green spaces, spotting illegal fishing boats, and more.
First published date: April 12, 2023 at 17:53 PM CST
https://auto.hindustantimes.com/auto/electric-vehicles/watch-solar-powered-aircraft-take-off-mounted-on-the-audi-e-tron-sportback-41681300122230.html