When we talk about electric vehicles in India, the most populated segment in that space is the electric scooters. However, electric motorcycles are not that much available in terms of numbers. Only a few EV startups have come up with their respective electric motorcycles in the country.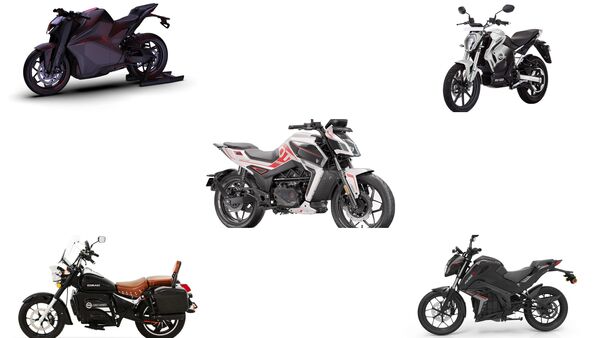 Electric bikes in India may be only a few in numbers, but they are spread across different segments such as sportbikes, cruisers, commuters etc. Also, some of these electric bikes are really exciting in terms of their design, features and performance.
If you are planning to buy an electric motorcycle in India, here are a few options for you.
Ultraviolette F77
The Ultravioleltte F77 is one of India's quickest electric vehicles on sale. Also, this is the costliest electric bike in India and comes powered by the largest battery pack in any electric two-wheeler available in the country. Priced between ₹3.80 lakh and ₹5.60 lakh (ex-showroom) and powered by a 10.34 kWh battery pack, the 207 kg weighing fully-faired, sharp-looking bike promises a 307 km range. Designed and developed with inspiration from the aviation sector, this pure electric sportsbike is high-performance focussed. The bike offers 38.8 bhp peak power and 95 Nm of maximum torque. It claims to sprint 0-60 kmph in 2.9 seconds at a top speed of 152 kmph.
Watch: Ultraviolette F77 electric motorcycle | Review
Revolt RV400
Revolt RV400 is one of the first movers in the electric motorcycle segment. The bike is available at a starting price of ₹1.62 lakh (ex-showroom) and promises an 80 km range on a single charge. It features a naked streetfighter look with the practicality of a commuter blended with that. The Revolt RV400 has a top speed of 85 kmph and takes about 4.5 hours to be fully charged. It was claimed as the country's first AI-powered electric motorcycle. The motorcycle gets all-LED lighting, a fully digital instrument cluster and a sporty riding stance.
Oben Rorr
Oben Rorr is an interesting electric bike in the Indian market that comes priced at ₹1.03 lakh (ex-showroom, Delhi). The electric bike comes in the guise of a naked streetfighter and carries some retro styling elements that are blended with modern technology and features. Powered by a 4.4 kWh battery pack, this electric motorcycle promises a 200 km range on a single charge at a top speed of 100 kmph. Oben claims that this bike can be charged in two hours using fast charging technology and it can sprint 0-40 kmph in three seconds.
Watch: Oben Rorr electric motorcycle: Road test review
Komaki Ranger
Komaki Ranger is a retro-styled cruiser electric motorcycle. In terms of design, it looks like heavily inspired by Bajaj Avenger motorcycles. However, the all-electric characteristic is what makes it distinctive. TheKomaki Ranger promises up to 250 km range on a single charge. It claims to be capable of running at a top speed of 80 kmph. The motorcycle is available at ₹1.86 lakh (ex-showroom, Delhi).
Hop Oxo
Hop Oxo is an electric commuter motorcycle that comes priced between ₹1.65 lakh and ₹1.80 lakh (ex-showroom). This electric motorcycle claims to have a 150 km range on a single charge thanks to a 3.75 kWh battery pack. The motorcycle can run at a top speed of 95 kmph and the manufacturer offers a four-year warranty on the battery. Also, to get it charged up to 80 per cent from zero, the bike takes four hours and 45 minutes.
Matter Aera
Matter Aera at one glance looks like a sporty naked streetfighter motorcycle with an electric powertrain. However, the key USP of this bike is the four-speed manual gearbox. While electric motorcycles are known for not having conventional transmission, Matter introduced a four-speed hypershift gearbox to the Aera. The bike promises a 125 km range on a single charge thanks to a five kWh battery pack and can sprint 0-60 kmph in less than six seconds.
Tork Kratos R
Another interesting-looking streetfighter is the Tork Kratios R which comes priced at ₹1.37 lakh (ex-showroom). This electric motorcycle promises 180 km range on a single charge and 105 kmph of top speed. Tork claims the bike requires three hours to be charged up to 80 per cent from 20 per cent in regular charging mode while using a fast charger, it can be charged up to 80 per cent in just an hour. Powering the bike is a four kWh battery pack.
First Published Date: 08 Sep 2023, 15:07 PM IST
https://auto.hindustantimes.com/auto/electric-vehicles/world-ev-day-from-ultraviolette-f77-to-oben-rorr-these-are-the-electric-bikes-you-can-buy-in-india-41693911995509.html